Welcome
Welcome to the City of Woodbine, Georgia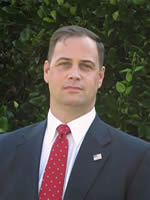 I would like welcome you to our City's website. This site was designed to be informative and easy to use. I hope that everyone enjoys what they find on this site and will return again and again to keep in touch with all that is happening in Woodbine.
We are a community with a proud heritage rooted in history. Serving as the County Seat we work hand in hand with Camden County for business growth and the betterment of our community. Whether you enjoy the outdoors, home cooking or just spending time with friends there is something for everyone in Woodbine. Bordered by the Satilla River we are a boater and fishers paradise. We believe in being neighborly and you can still walk down the street and meet people you know or make new friends with visitors. We feel confident that if you choose not to make Woodbine your home, you will always keep a place for Woodbine in your heart.
City Hall is a great resource for citizens and visitors alike and we encourage you to stop by and see what we have to offer. Woodbine has several civic organizations, as well as City committees that offer members of our community opportunities to make a difference in the life of our City. Please check out the business section. We will always encourage business growth and the addition of new residents.
If you would like more information, please call City Hall at 912-576-3211 or email us at cityofwoodbine@tds.net
Thanks for visiting,
Sincerely,
Steve Parrott